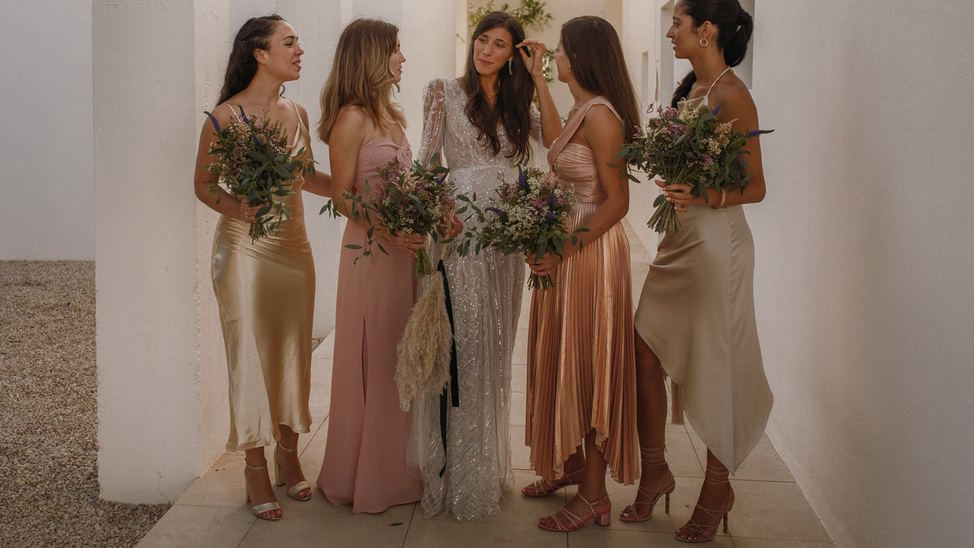 Hair Color Ideas That Perfectly Complement Your Wedding Dress
Your wedding dress is the main focus of your big day, and you want to look absolutely stunning in it. Unfortunately, the right hair color can make or break your bridal look – so how do you choose a shade that will perfectly complement your dream gown? With so many options available, it can be hard to know where to start. But don't worry; if you're looking for amazing hair color ideas that will perfectly complete your wedding attire, we have plenty of inspiration! From pastel blondes and bold reds to natural brunettes and gorgeous grays, read on for all the advice needed to pick the perfect hue for your special day.
How to pick the right hair color for your wedding dress
When selecting a hair color for your wedding day, it's important to consider the colors of both your dress and the other components of your look. For example, if you have chosen a classic white or ivory gown, try adding subtle highlights or lowlights to bring out its unique details. Alternatively, choose a similar shade to accentuate the hues within your look if you have opted for a more colorful dress – like blush pink, champagne or navy blue.
It's also wise to think about skin tone when choosing a wedding-day hairstyle. Try opting for icy blondes, ash browns, and pearly platinum shades that reflect natural light for cool undertones. If you prefer warmer tones in makeup and clothing, warm tones like auburn reds, dark brunette or golden blondes can bring out the vibrancy in your complexion.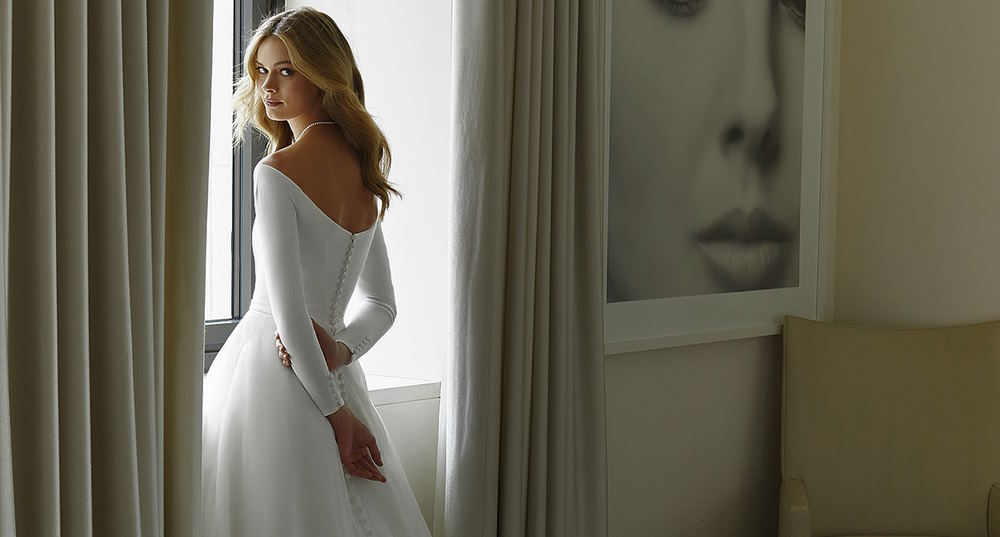 If you're still unsure about which hair color to go for, why not consider an all-over gloss? A semi-permanent color option that is free of ammonia and peroxide, it can be applied during a blowout to add subtle dimension and shine. This technique is perfect for those who want to maintain their natural hue whilst adding luminous reflection for unforgettable wedding photos.
Regardless of the route you choose, the most important thing to remember when picking the right hair color for your wedding day is to have fun with it! Stylists are here to help you create the perfect look – trust their expertise and let them help you create a style that matches your unique personality.
Wedding dress settings and the right hair color to match
There are a few things to consider when choosing a wedding gown and the perfect hairstyle.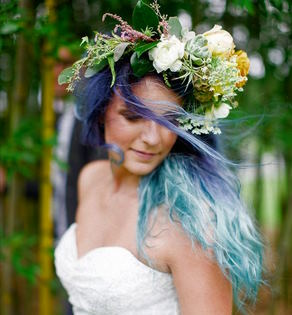 First, the silhouette of the dress should be taken into account. For example, a fitted ball gown would look beautiful with a classic updo, while a strapless sheath or mermaid-style dress could be complemented by soft waves that cascade over one shoulder. If the bride plans to wear a veil, she should keep this in mind when selecting her hair color and style so as not to clash with the fabric of the veil or detract from its beauty.
Although there is no hard-and-fast rule about which hair color is best for a particular wedding dress, some colors will typically work better than others. For example, if the dress has intricate embroidery or beading in shades of silver or ivory, it would look beautiful paired with a pale blonde or platinum shade. Similarly, a gown with warm-toned accents, such as gold threading, could be complemented by a warmer shade, such as auburn or caramel.
Finally, the bride's skin tone should also be taken into account when selecting her hair color for the big day. A cool-toned complexion would tend to suit cooler shades like ash blonde and icy platinum, while warmer hues like golden blondes or rich chestnut browns might look better on someone with a warmer complexion.
Ultimately, the perfect hair color for a bride should complement her dress and flatter her face. Taking into account the style of the gown, its accents, and the bride's skin tone can help ensure that she looks and feels her most beautiful on her special day.